I am in the midst of designing a tattoo for myself.  The idea is to both modernize and personalize The Buckley Family Crest to better suit contemporary times, and of course to then permanently etch this wonderful work into my skin with only the blackest of ink.
There are various versions of The Buckley Family Crest that I have found online, here is one for example: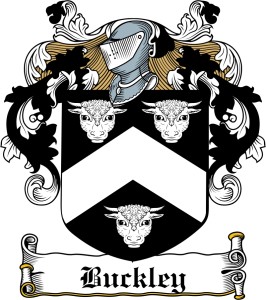 "Nec temere, nec timide"
The family motto is a latin phrase that means, 'neither rashly nor timidly' or  roughly, 'never too timid, never too bold'
Here's what wikipedia has to say about me (us?):
'Ó Buachalla, taken from the Irish word 'buachaill' originally meaning 'herdsman' (in modern Irish it has come to mean 'boy'), was anglcised early as Ó Boughelly, Boughla, Buhilly and later as Buckley. The name Buckley in Ireland is derived from the native Gaelic Ó Buachalla Sept that was located in Lemanaghan (Liath Mancháin), Co Offaly, where an important monastery was situated. The Ó Buachalla's claimed to be descendants of the cowherd of St. Manchán or Manahan and hereditary bearers of his shrine, the custodians of which were the O'Moonys of Doon, County Offaly. The last reference to the site as a monastery comes in 1205 when the death of the coarb, (a type of administrator), Gillebrenyn O' Bichollye (Buckley), is recorded. There was also a sept in north east County Cork at the same time. Both were dispersed by the Cambro-Normans. Patrick Woulfe in his 'Sloinnte Gaedheal is Gall' ('Irish Names and Surnames' 1923), says that in the 16th century Buckley was peculiar to Cork, Tipperary, Offaly and especially Kerry. The area surrounding Lemanaghan in Offaly is still home to many Buckley's today. The name still also exists as Buhilly and Boughla in Offaly today. This name was brought to Ulster in the seventeenth Century by settlers.
Buckley is the 99th most numerous name in Ireland.'
Well, it's safe to say The Buckleys are getting cooler, for we are no longer mere cowherders.  And since we are a changing people, I have decided to make changes to the family crest.
Below is the first pass I have made at a redesign: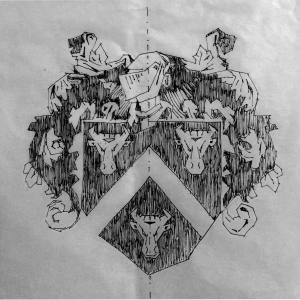 My next thought is to move the sketch into the computer and start to work with the geometry and proportion of the crest — I'm sure the change in medium alone will produce significant variation.  As of now, I am happy with the shield shape and the shield elements, but am hoping to modify the helm as well as the mantle.
Here's where that is at so far: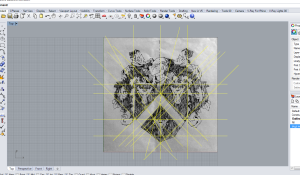 At this point, I am planning to forgo lettering, use only black ink, and locate it on my middle-upper back.